Lots of photos ahead; if you don't like poppy prints, look away now.
In mid-March, my husband and I made a quick weekend trip to New York. (Digression: I love our house in the woods of New Hampshire, but I lived in NYC from 1986 to 1992 and have never really gotten over it. At least once a week I have a sweet dream in which I find myself living there again. Visiting every now and then makes me very happy.) We packed a lot into a day and a half: the Trend-ology and Fashions of the 1930s exhibits at FIT, Charles Marville's photographs of Paris at the Met, a Broadway play in previews, gallery hopping in Chelsea, an absinthe at a tavern on St. Mark's Place, some real Chinese food, and . . . a trip to Mood Fabrics, of course.
My plan was to find a soft cotton print, maybe a floral, for
Vogue 1350
. I looked with no special color or print in mind, thinking I would just know it when I found it, and then, bam, there it was. I could feel the tag tucked way down inside the tube and got my husband with his long fingers to fish it out. Turned out that was the wrong end of the tube—no price or content information, just a small brown piece of paper with Oscar de la Renta printed on it.
So later, at home, I searched for Oscar de la Renta poppy print online and found my exact fabric made up into dresses.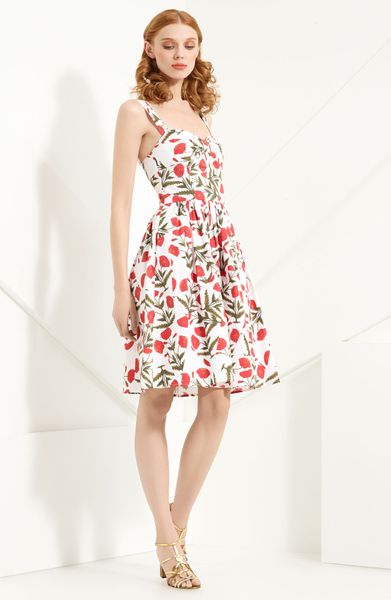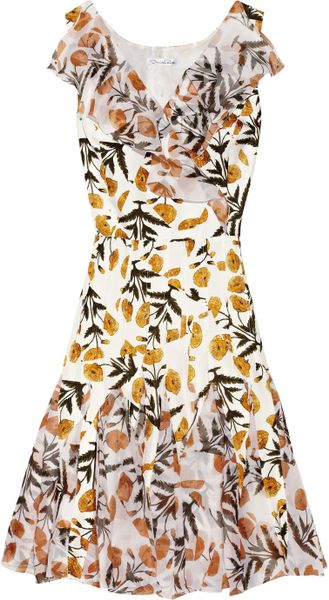 Well, maybe not my exact fabric. The red print dress is in cotton stretch, and the yellow is silk twill. My fabric is a cotton/silk blend, no stretch. With the information that these dresses were from 2012, I looked up de la Renta's spring 2012 fashion show, and there was my exact fabric again.
Okay, again, not so exact, but it's the same general idea. Let's take a closer look:
Can you see that the leaves are appliqued/embroidered, and the poppies have frills sticking out around the edges? What I bought seems to be one of several "flat" versions of this gorgeously intricate three-dimensional fabric. I'll take it!
I cut a square and gently,
gently
squeezed some mildly sudsy water through to see how it would react. It didn't shrink, but look at the fraying on those edges. Since it is such a lovely fabric, I will call it fragile rather than flimsy.
My muslin of V1350 came out nicely but on the snug side. (I usually go down a size in Vogue because of the large amount of wearing ease but didn't do so this time; when they say "close-fitting bodice" they mean it.) I've decided to save this pattern for a sturdier fabric that can hold me in where I need to be held in, haha! Seriously, I thought the poppy fabric would work better in a dress with more flow to the skirt, so I'm going instead with #124 from the April 2014 Burda magazine.
My version will omit the batting, piping, lace edging, and the shirring on the sleeves, as ruffles and frills just do not look right on me. I'm still agonizing over experimenting with replacements for the sleeves. Same pattern piece but droopy instead of shirred? Little half-moon cap sleeves? Two-piece short sleeves cadged from another pattern? Leave the sleeves off altogether? I'll need to tone up and tan my arms; fortunately my last post worked and spring has showed up.
A nature/garden note:
This snap out my sewing room window shows why we will have very few flowers this spring. The azaleas and rhododendrons have lost all their tips; even the crocuses are just nibbled stubs poking from the ground. I haven't been able to bring myself to shoo this group of three does and two teenage deer away often enough (especially because one of the does has only three legs), and they have taken up residence. Disaster for the garden.